Products from TBS
No results were found for the filter!
TBS Crossfire Nano RX (SE)
Team BlackSheep - TBS Crossfire Nano RX SE TBS is stepping up the Long Range / UHF game, with no competition in sight! With the TBS Crossfire Nano RX we condense 2 years of engineering experience, listening to our customer requirements,...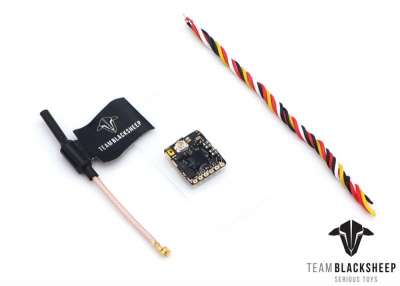 TBS Unify Pro32 Nano 5G8 V1.1
TBS UNIFY PRO32 NANO 5G8 With the TBS UNIFY PRO32 Nano we have boosted the output power, improved the robustness, decreased the power consumption, added capability for insane features and perfected the way it is installed in your...
TBS Tango 2, v3 PCB
TBS Tango 2, PCB v3 Redefining the Remote Control Team BlackSheep has been at the forefront of perfecting the interface between FPV drone and mind. The TBS Tango 2 changes how radio remote controls will be from here on out! Despite being...
TBS Tracer Nano Starter Set
TBS Tracer Nano Starter Set In a race, microseconds count. Goggles down, thumbs up - are you ready for a true 250Hz radio link? End to end latency: barely noticeable. Nothing else comes close! Thanks to 2.4GHz technology, we took the...
TBS Multi Protocol Module (MPM)
TBS Multi Protocol Module (MPM) 4-in-1 multi protocol module for TBS Tango 2 and other lite adapter radios Transmitter Module, compatible with OpenTX / FreedomTX for TBS Tango 2, X-Lite and X9 Lite (X9 lite needs adapter, sold separately...